Two Days on the River
This trip had been in the pipeline for months. H-hour was now upon us. As we began the long haul down to the entry point, I wondered what this epic trip we were about to undertake had in store for us. Would there be Bass? Would I be up to some of the challenging rapid-runs? Would I even make it to the end? These questions and more would be answered over the next 2 days on the river. One of our group pulled out so in attendance was YakNBass (Craig), Tiny Torpedo (Ezza), Sniper (Simon) and myself. It took us quite a while to get all the yaks and gear down to the start off point and my yak trolley rolled off a number of times forcing me to re-adjust it and carry on. This was no easy task as my little WS Aspire 100 was loaded beyond capacity and very heavy. I tried to research, read up and ask everything I could to prepare for this trip and was fairly confident I was as prepared as I could be. I'd also done what I should have long ago and outlayed the cash on a PLB. The night before we departed we sat down and made sure everyone in the group was familiar with how to deploy it.
Due to recent rainfall in the area, the river was up and dirty and in fairly high flow. Whilst this made some of the rapids a bit harder to negotiate, it also made some easier as it opened up other arms in places which allowed us to take a different and sometimes easier route. The main problem I found with some of the rapids was the weight I was carrying in the Aspire. Most of these rapids would have been fairly easy on a day trip but it's a very different story when your yak is fully loaded and you can also notice how much more sluggishly it responds to the paddle.
We set off in warm, overcast conditions and after a few minutes Sniper was the first to declare "Fish On" with a nice Bass taken off the surface. I thought this was a good sign but it would be a while yet before I had my my Bass to the yak…
Prepping the yaks & gear the night before launch and having a farewell drink with Waksman
Good preparation & piece of mind. Also fits very neatly inside the pocket on my PFD in its protective padded cover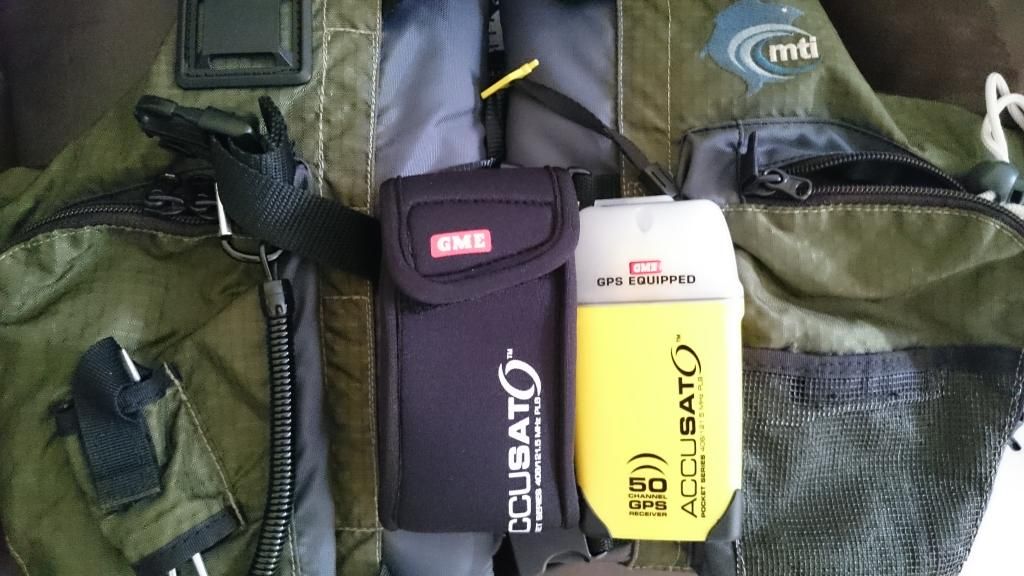 Start-off point
The first part of one of the many, many portages. Sniper doing it in style in the PA14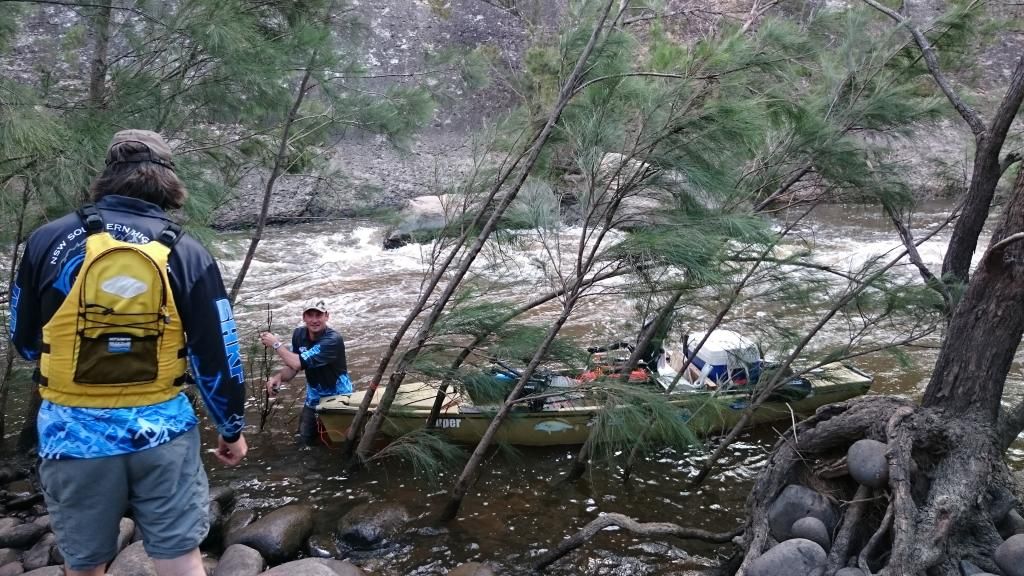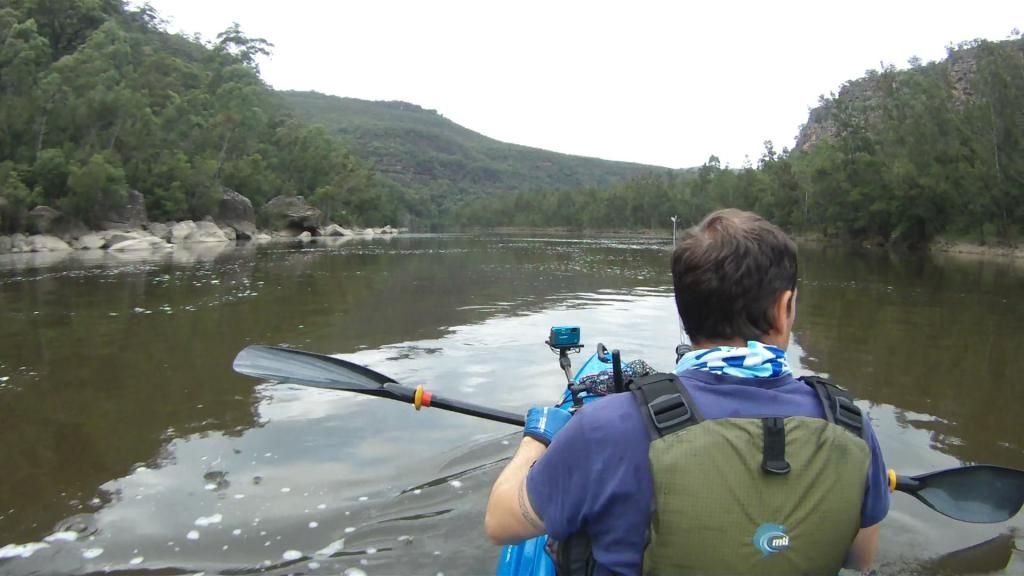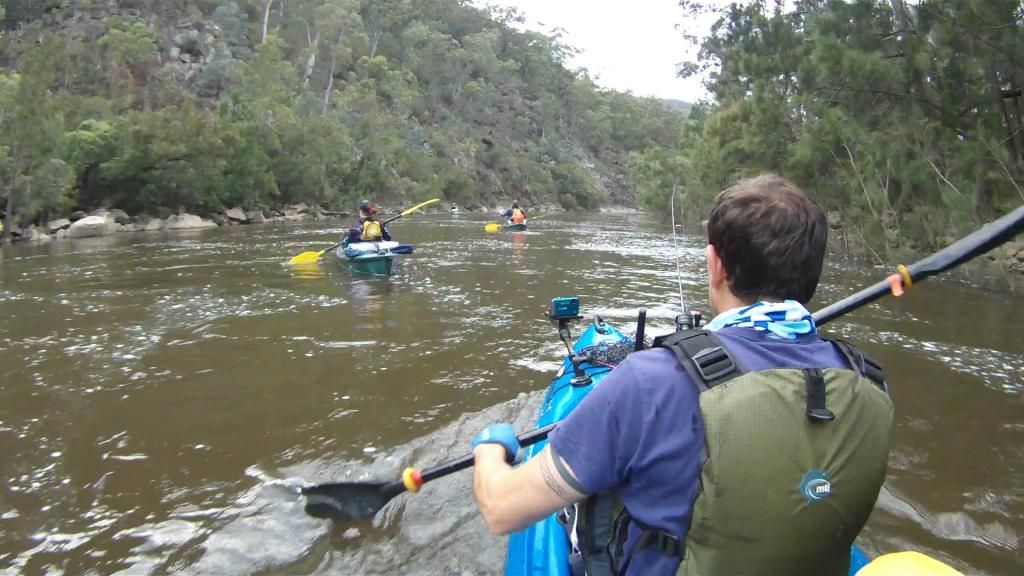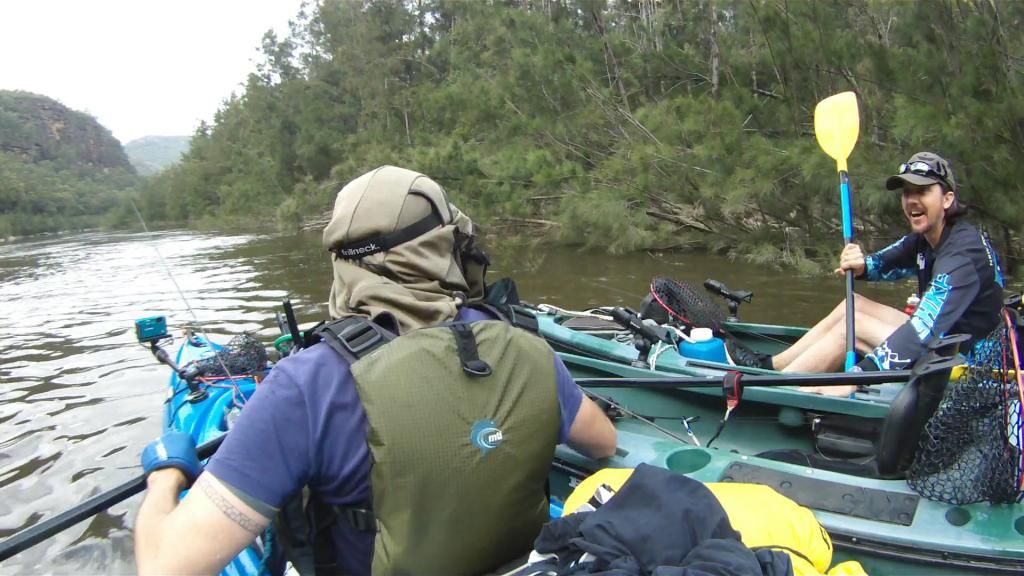 Stuff like this that would normally be pretty easy is a different story with a fully loaded yak with water & supplies for 2 days.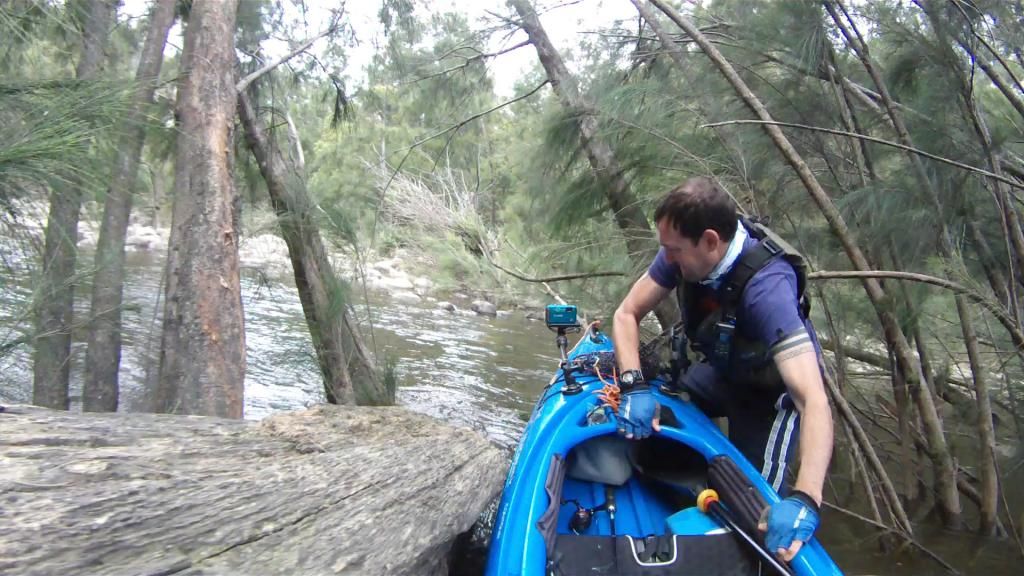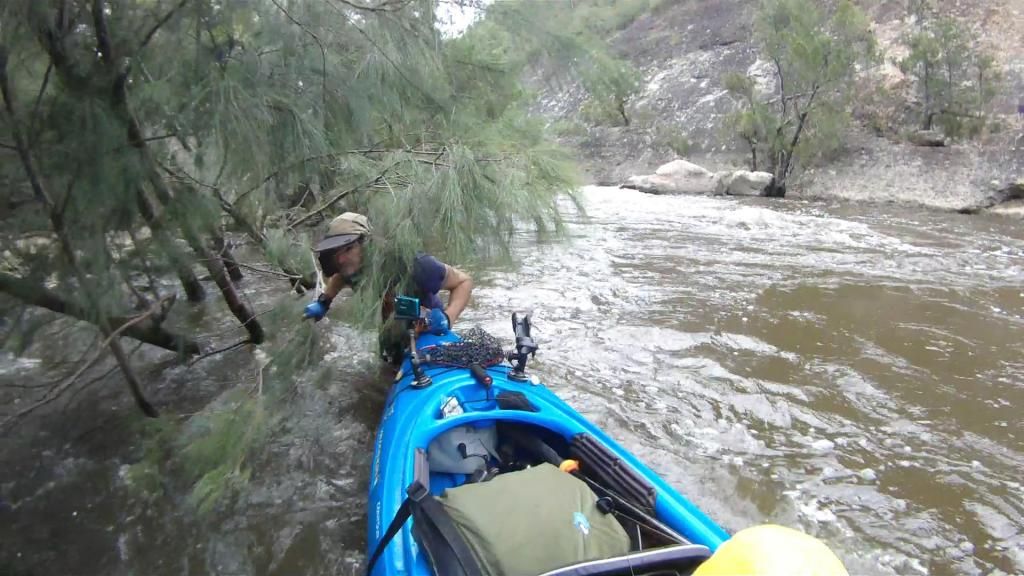 It was at about this point that I gave up on trying to keep my upper body dry.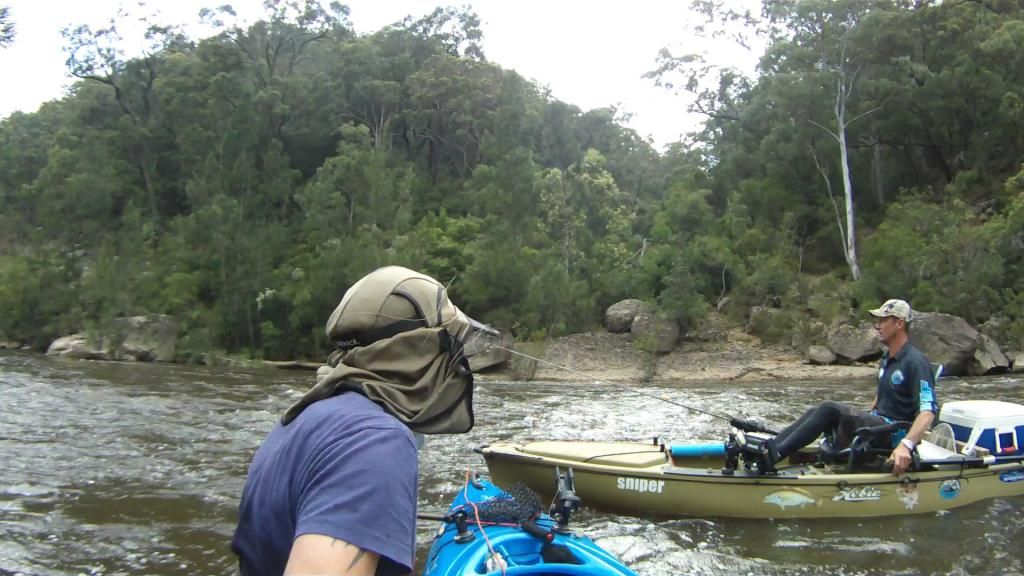 During the first portage we came across these things that we thought looked a bit like some sort of bush tomato. Even smelt and looked internally like tomato.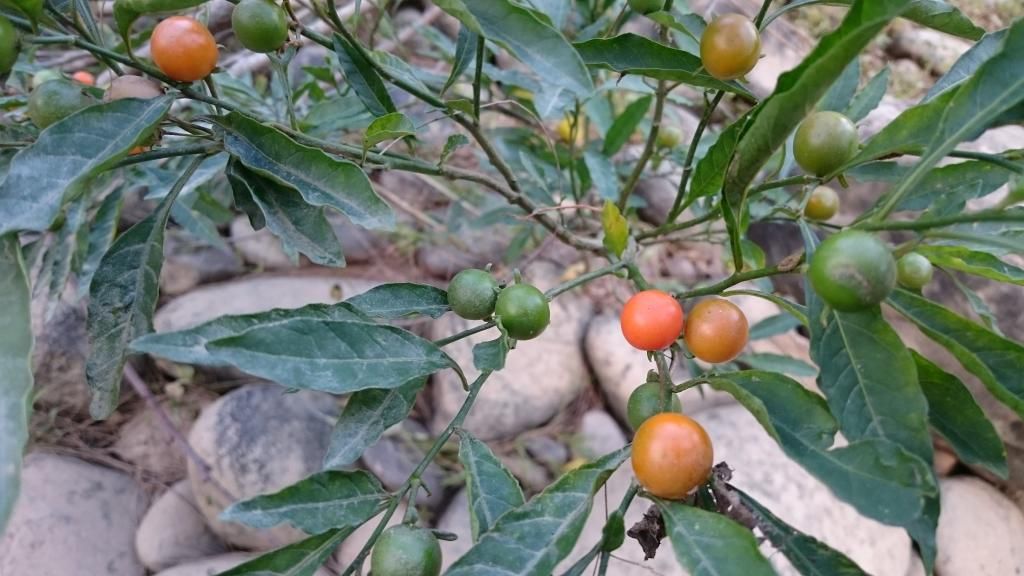 One of a few campsites we located along the way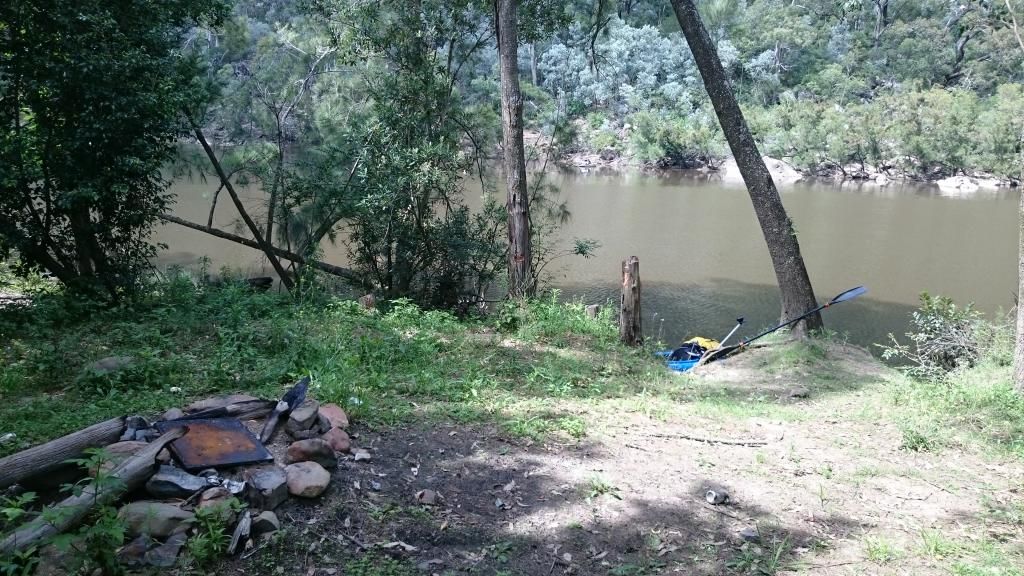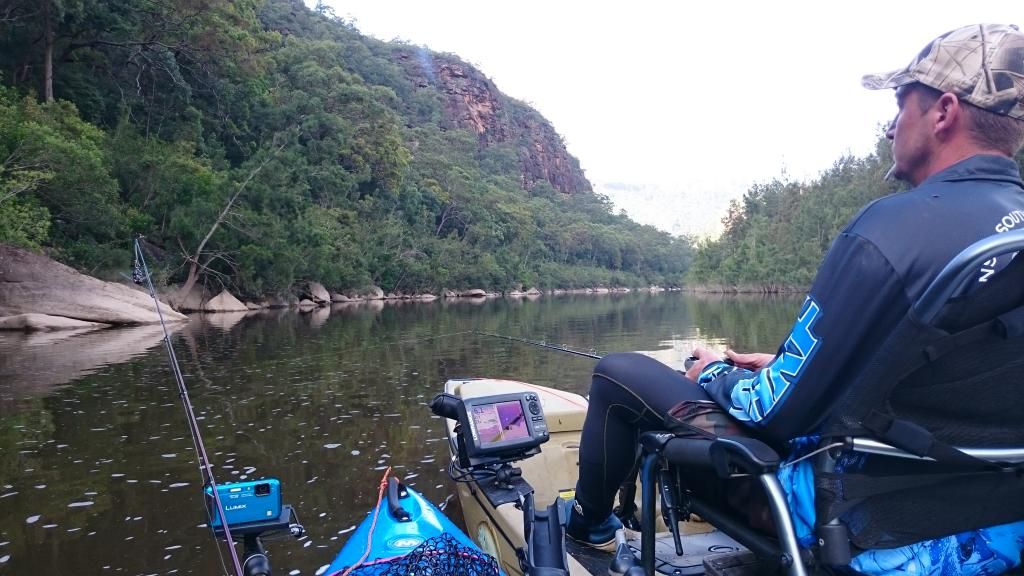 Water was a bit dirty but such beautiful country.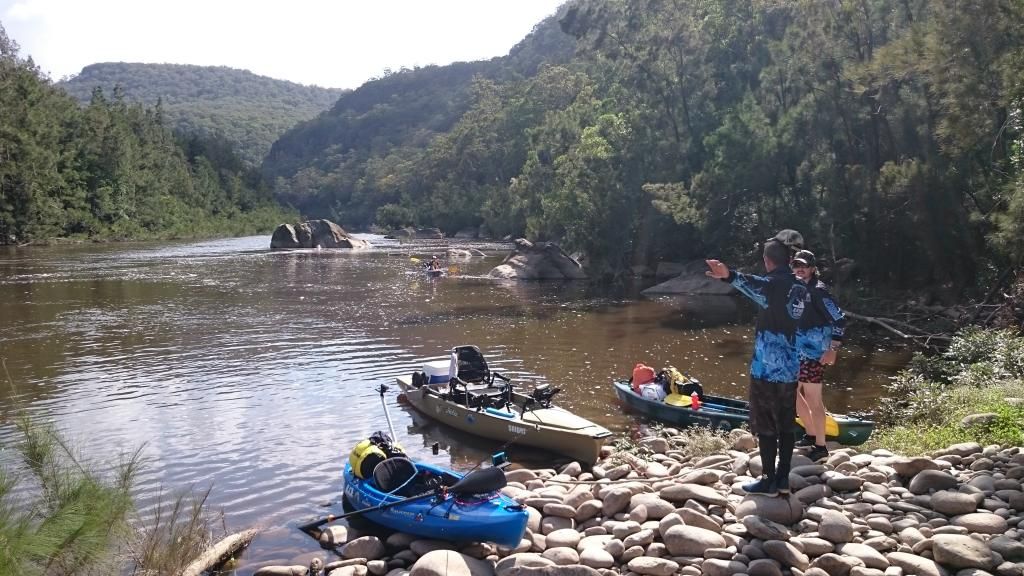 By this stage, about 2 hours had passed and the sun was beginning to break through the cloud cover. Craig, Ezza & Simon all had Bass on the board but I'd only managed a few half-hearted hits and my confidence was starting to wane. I'd decided I was going to use a different type of lure for this trip (although still surface ha ha. So I'd deployed the black & green MegaBass Siglett that had not seen the outside of a tackle box since new. I was just about to revert back to a SSC when the Siglett was belted off the surface between some small boulders tight to the eastern bank. It was a solid hookup and I bought a low 30's range Bass to the net. Not huge but I was more than happy with it as my first for the trip and I was just stoked to be fishing for them in this awesome & remote part of the world. Happy days.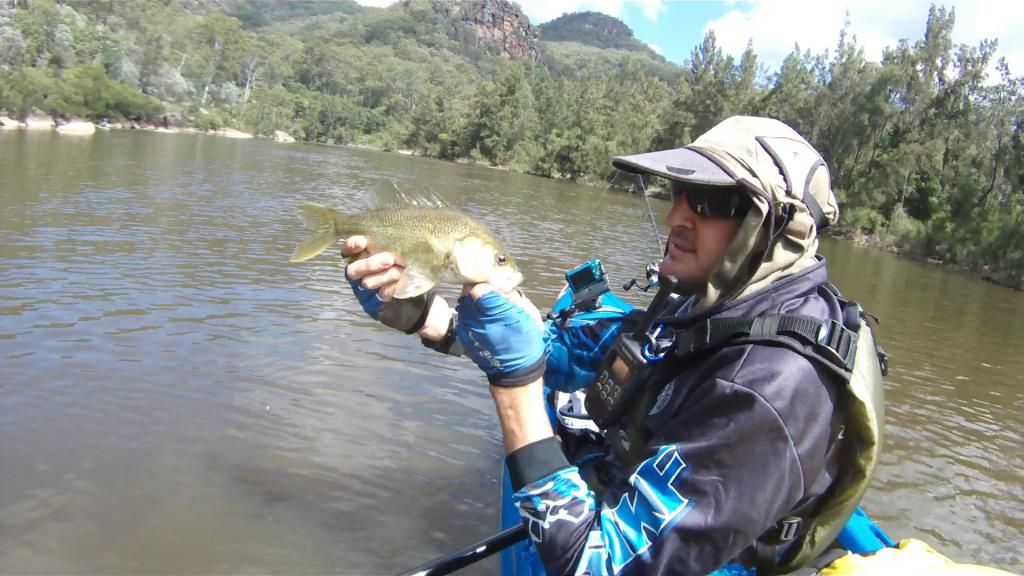 Approaching another fast flow and a drop in altitude.
Then down further was this very nice jungle-lined corner of the river with a nice big foam covered eddy and a text book fallen log. One of those spots you look at and think to yourself "There's just got to be a Bass in there!" Sure enough there was. Happy days again.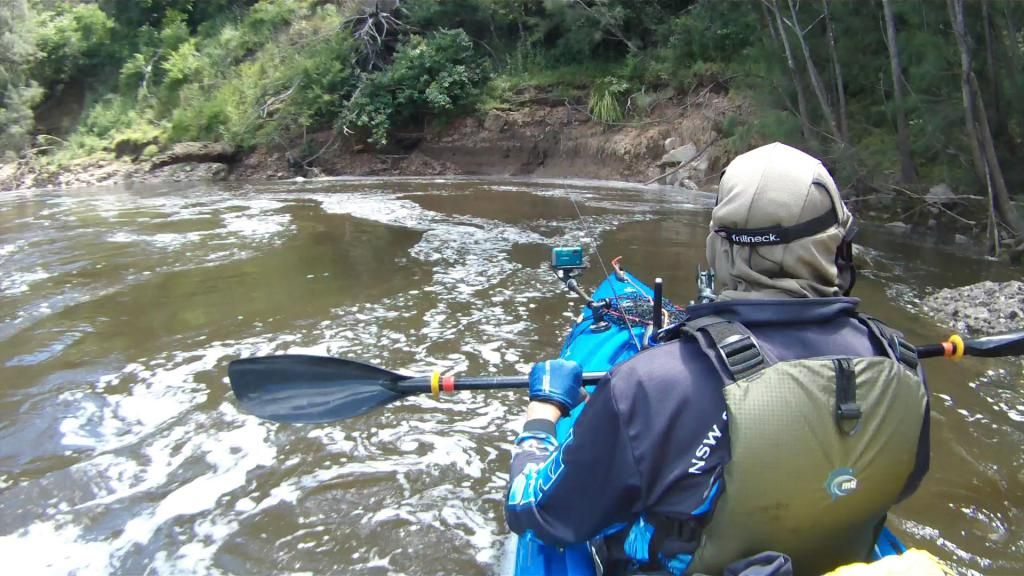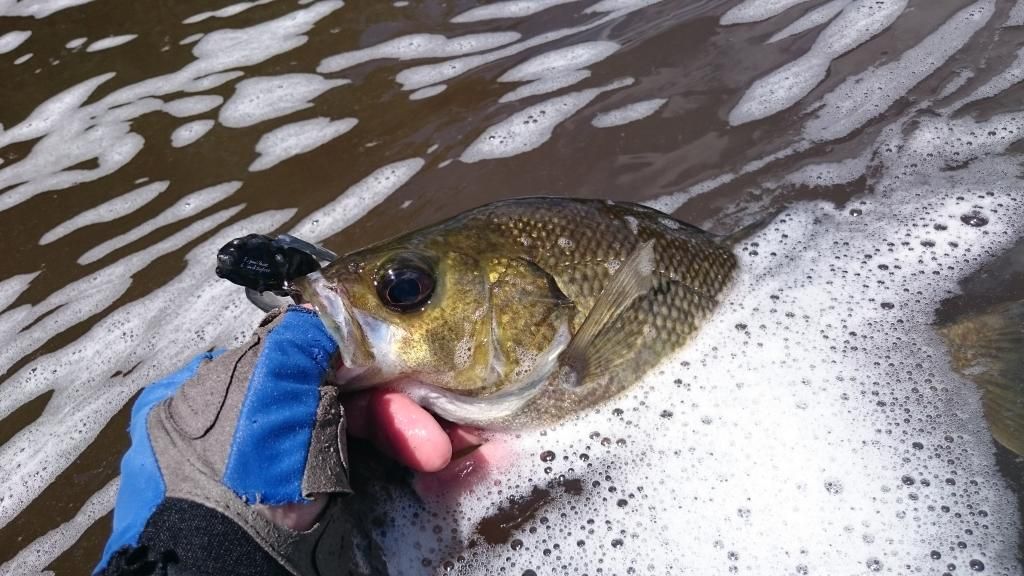 Lunch stop at another campsite.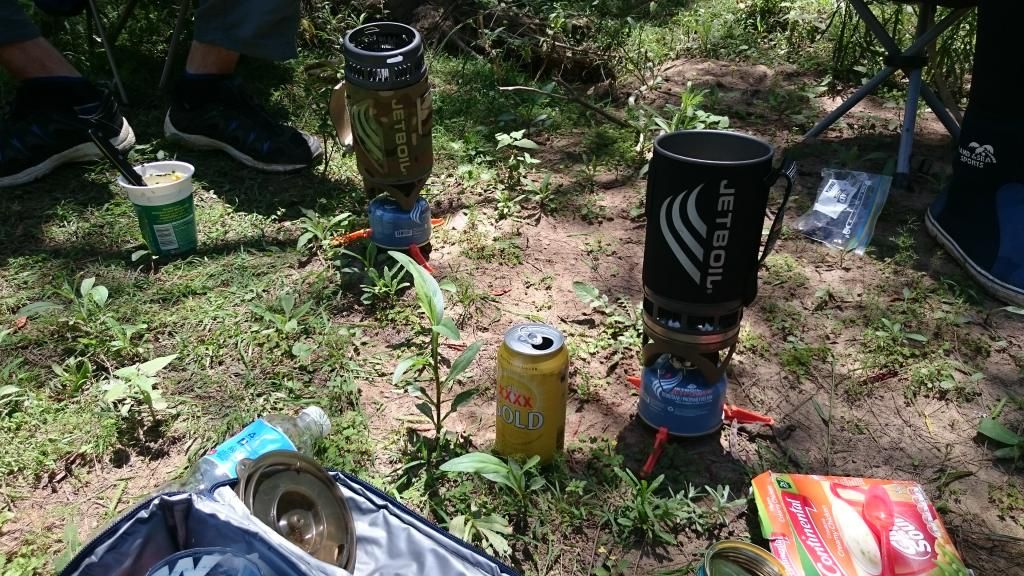 Back to the river..
And back to the Bass..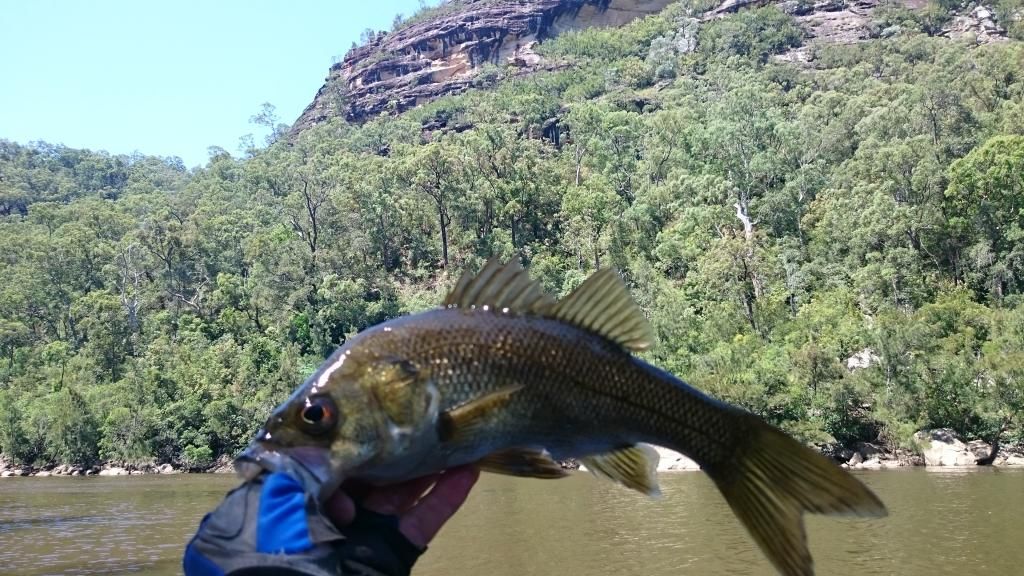 Lots of rats with the occasional low-mid 30's range but they were all good fun especially on surface all day long. Several sections of river were at least a hit per cast.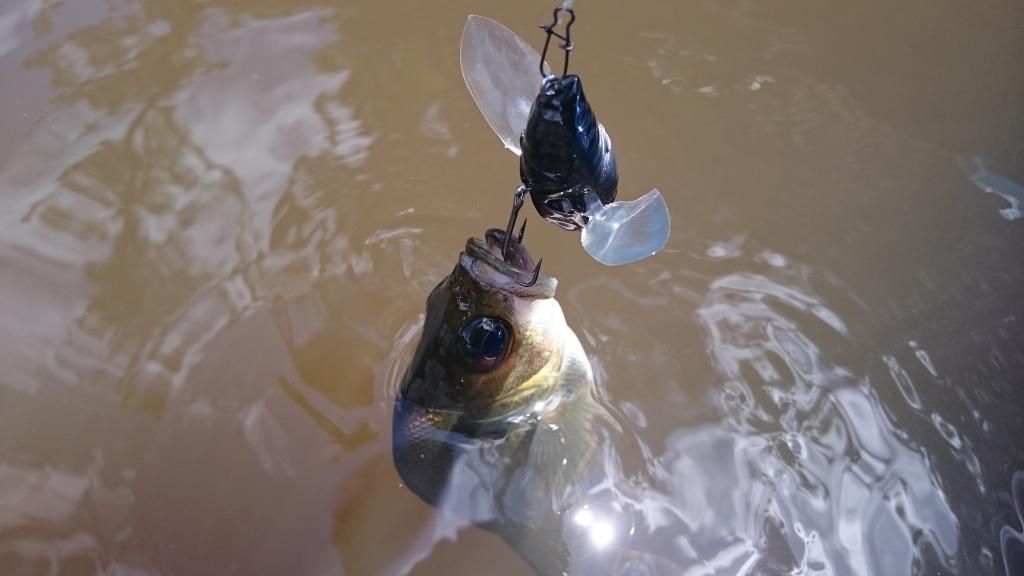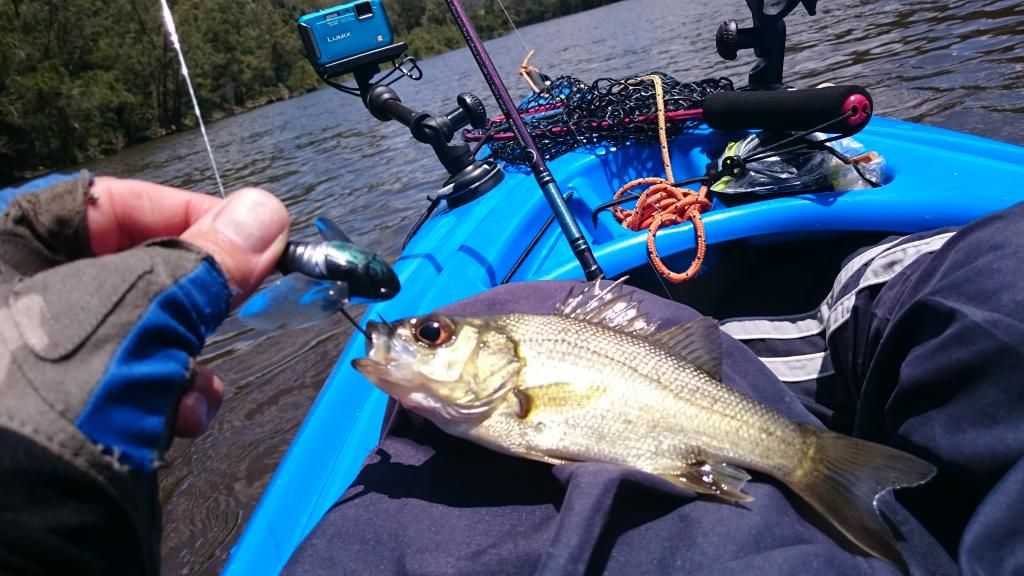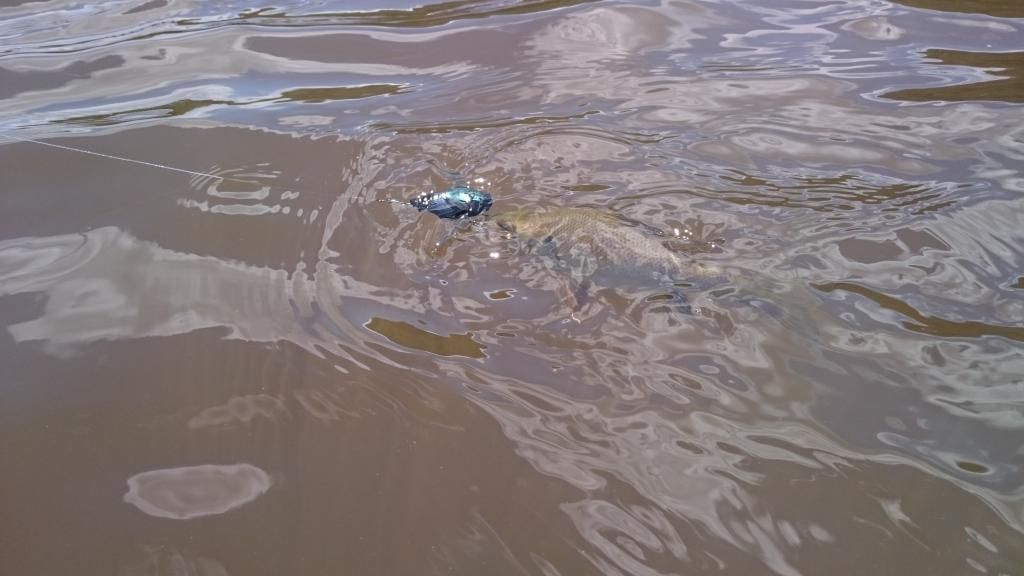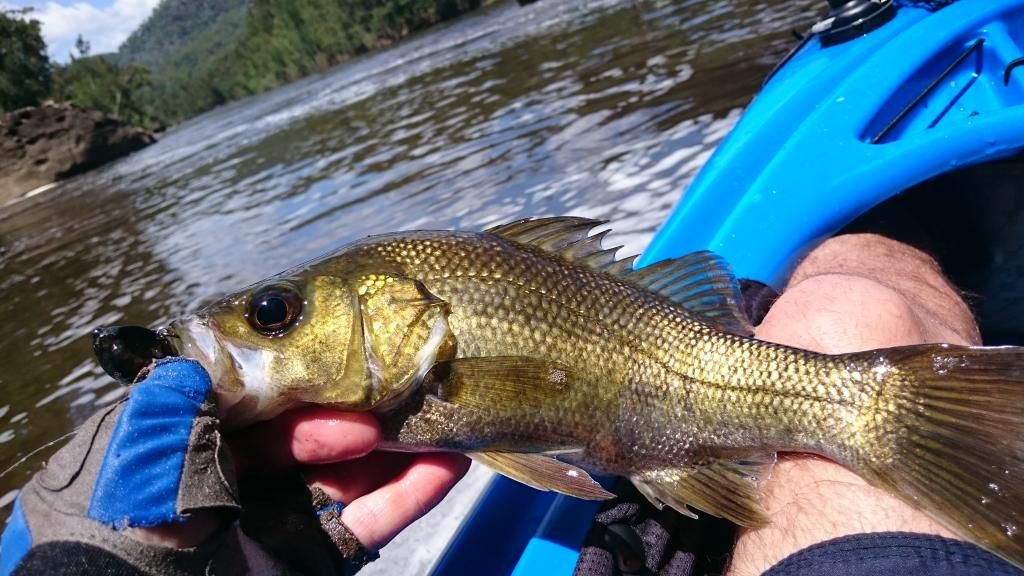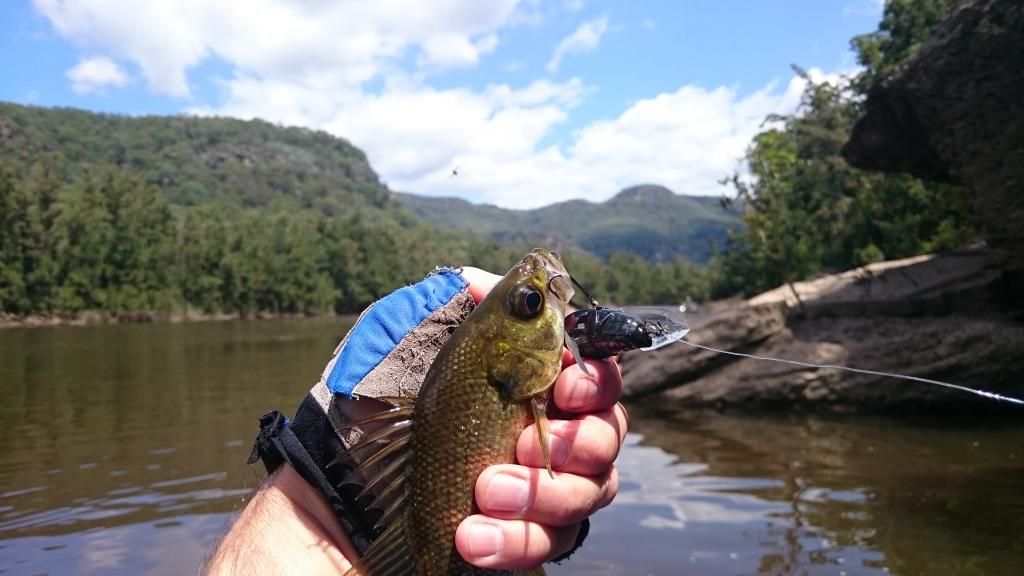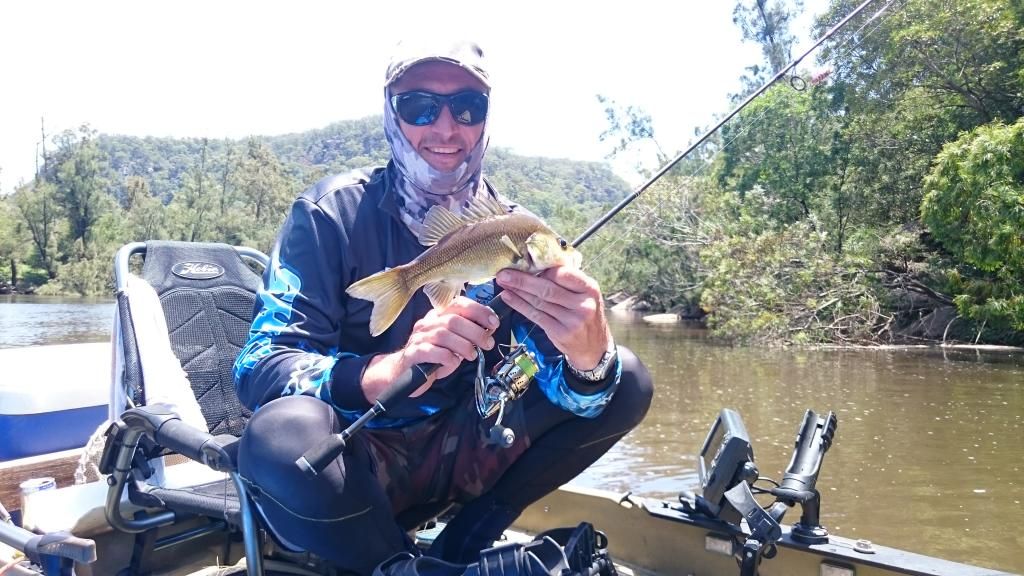 Sniper and PA14 negotiating one of the rapid runs. The "River Barge" made it through with our precious cargo just fine
Hooked up to my best fish of the trip. 38.5cmFL. Happy days once more.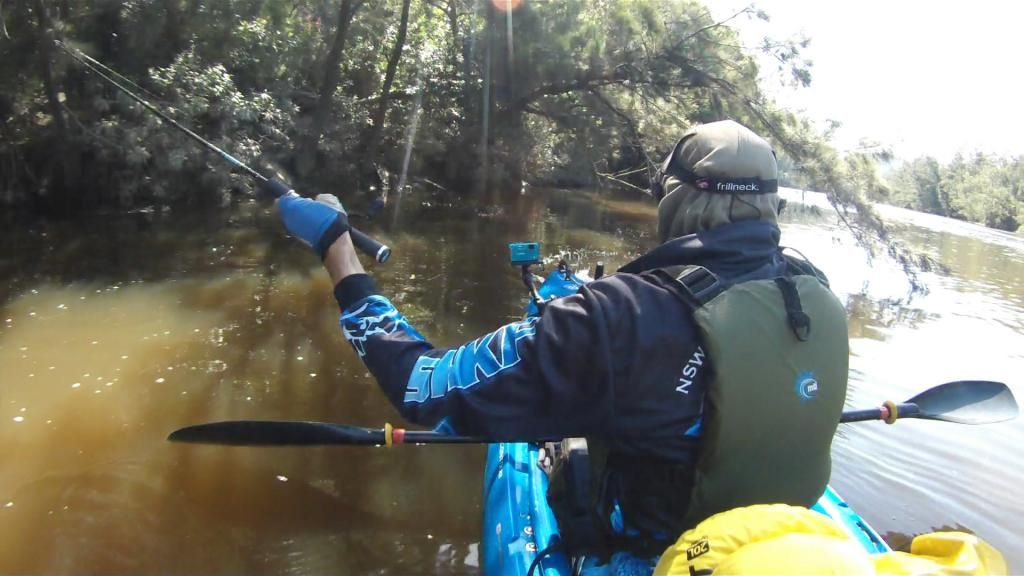 Glad I kept the Siglett on the job. I was concerned about the hookup rate with the double hooks on the Siglett as I'd never used them before but it seemed quite decent.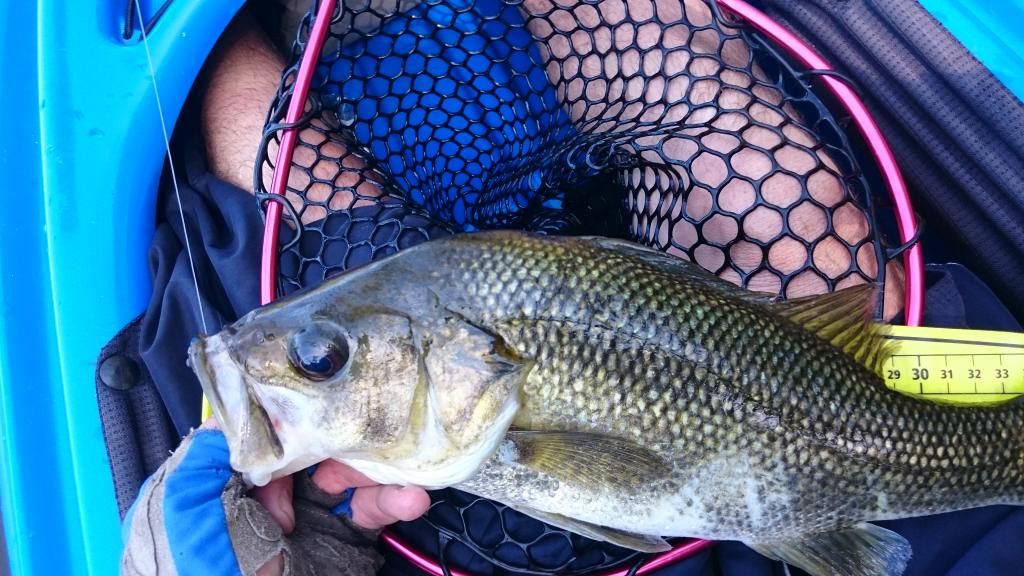 We reached the general area where we had decided our camp would be. Craig and Ezza were still fishing back up river but Sniper caught up with me here and we made our way up this creek system. There was a noticeable difference in the water clarity in here. It was crystal. I had a nice hit on the first cast but as a few times today, missed the hooks. We came upon a tight section and bank fished the pool ahead. I decided to let Sniper take the first cast while I took a photo. I think it was the 2nd cast that landed him a nice mid 30's range Bass from this pristine waterway.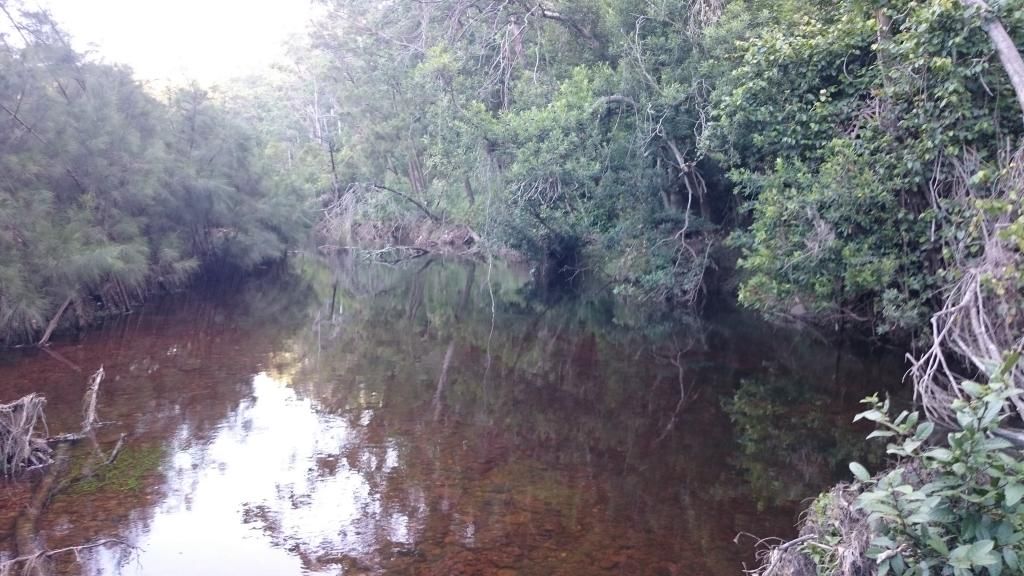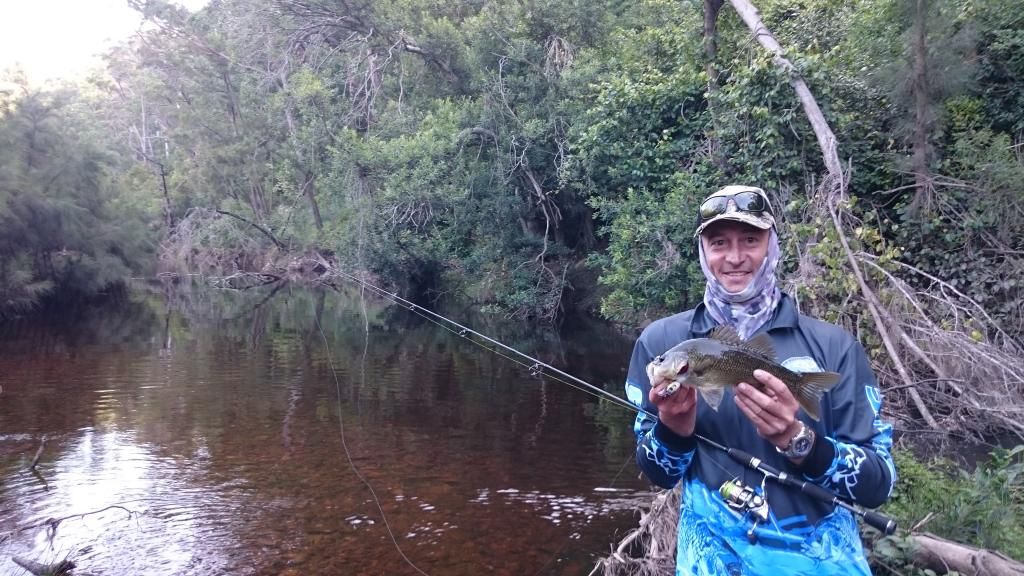 We moved further upstream and caught more rat Bass but nothing really sizeable. We'd established comms with Craig & Ezza on the UHF and reported on the state of this beautiful creek so we decided to look for a campsite up here as there were more awesome looking pools that had to be fished.
Meeting up again to set up camp and fish the upper .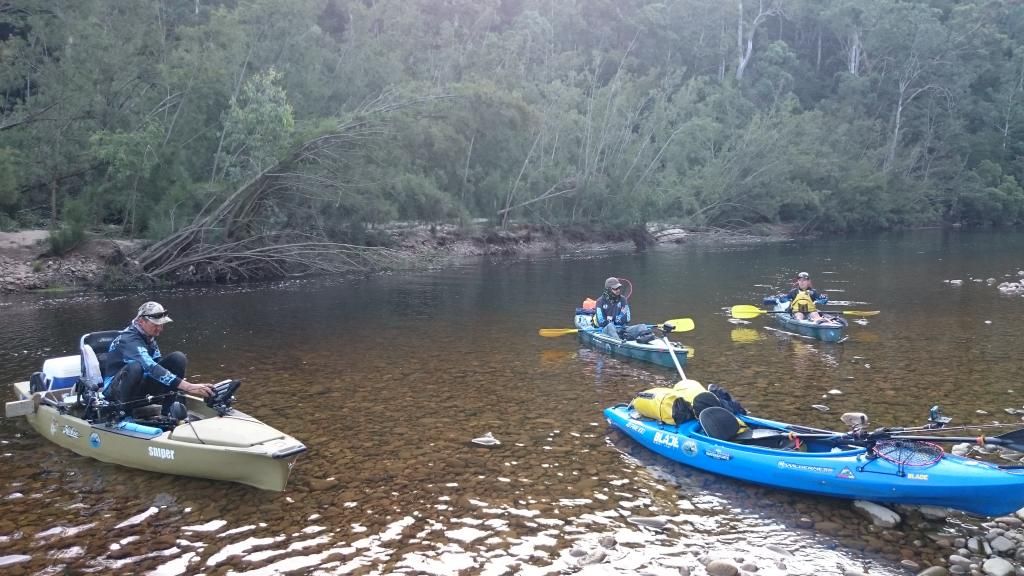 Our campsite, our fire and my tent.
So good to sit around a campfire after a long day Bassing in wilderness country and the cold cans carted by Sniper were received gratefully by all. After dinner of dehydrated meals prpared with the Jetboils, Sniper was first to hit the water and was rewarded just on dusk with a beautiful 40cmFL Bass. Team Crezza opted for some bank fishing. I took the yak out again but only managed rats and a few more hits. After dark it was back to the campfire for a few more drinks and then the Stones came out for a while.
After a restless night's sleep due to a very sore shoulder, I hit the pool on camp but again could only pull some small fish. As always though, it was great. We then broke camp and headed back out to the main river and into the second part of our expedition. Sniper and myself let Team Crezza head out first so they could have first shot at any willing Bass. I hung around camp for a little while and just took in the surroundings for a final time before heading out to meet up with the others.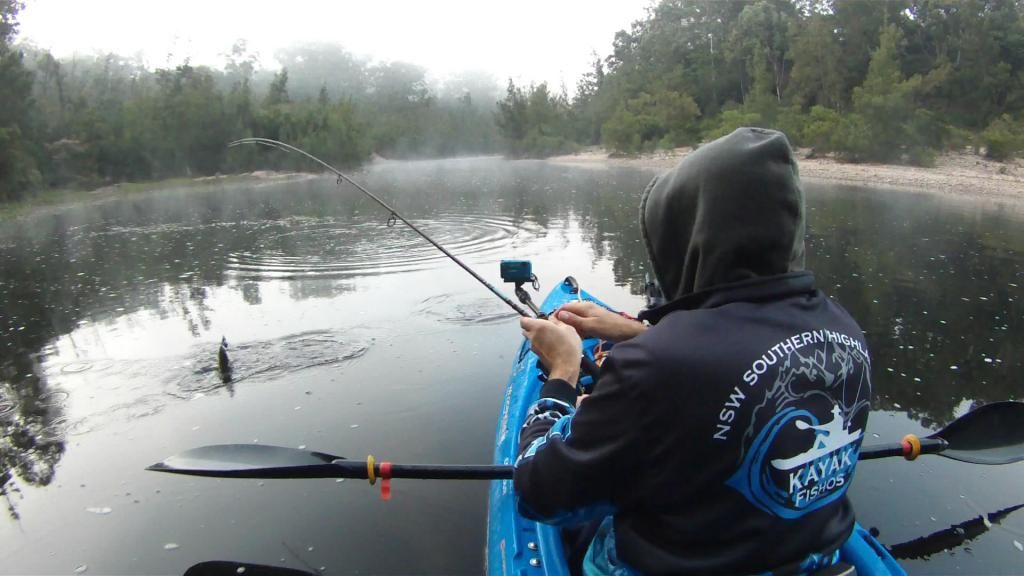 Packed up and ready to continue on.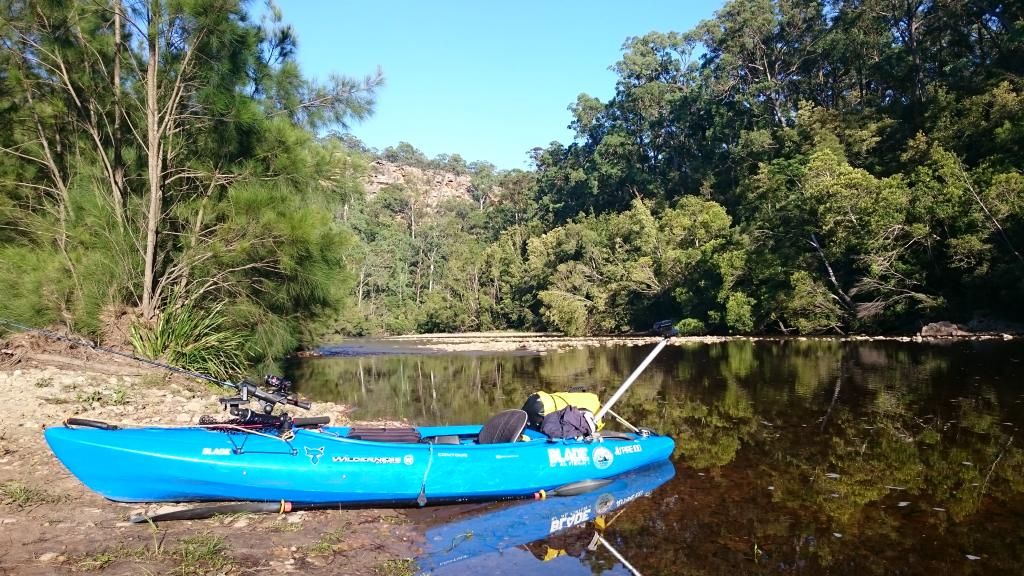 What we left behind.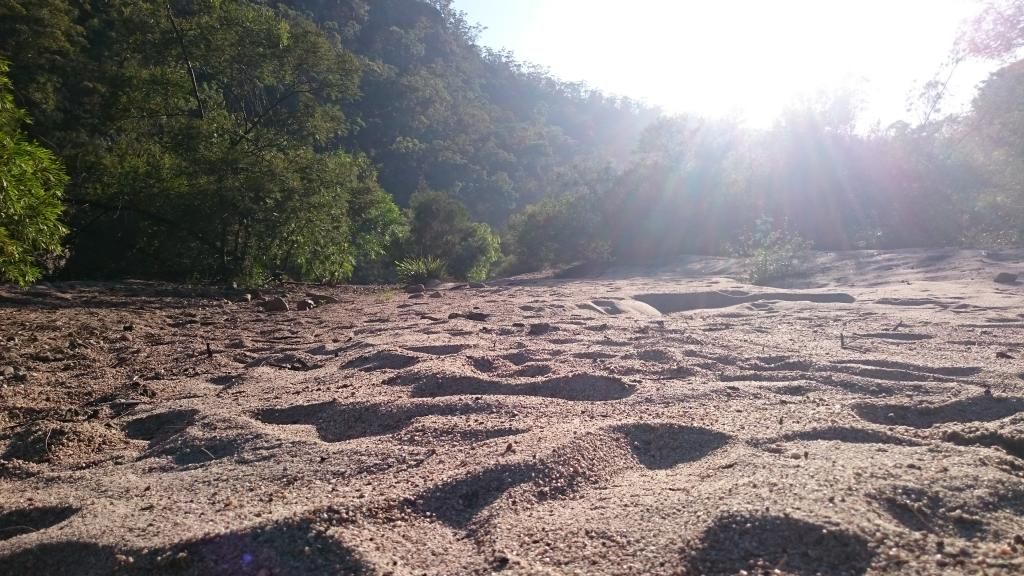 More rapids…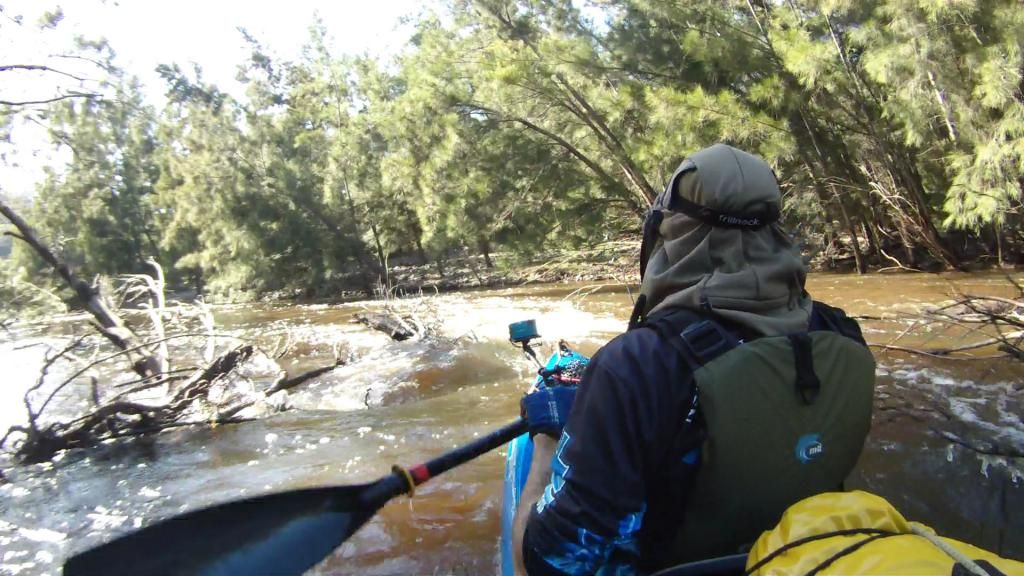 And more Bass. It was a few hours into the 2nd morning that I decided to have a change and lower myself to sub-surface. I'd been on the Siglett the entire trip so far so thought I'd try something different. Clipped on a Jackall Dcherry and caught a few Bass on it before switching back over to the Siglett as surface is just too hard to resist. So I'd only used 2 lures the whole time. I could probably cull down my lure arsenal for a trip like this a little more next time.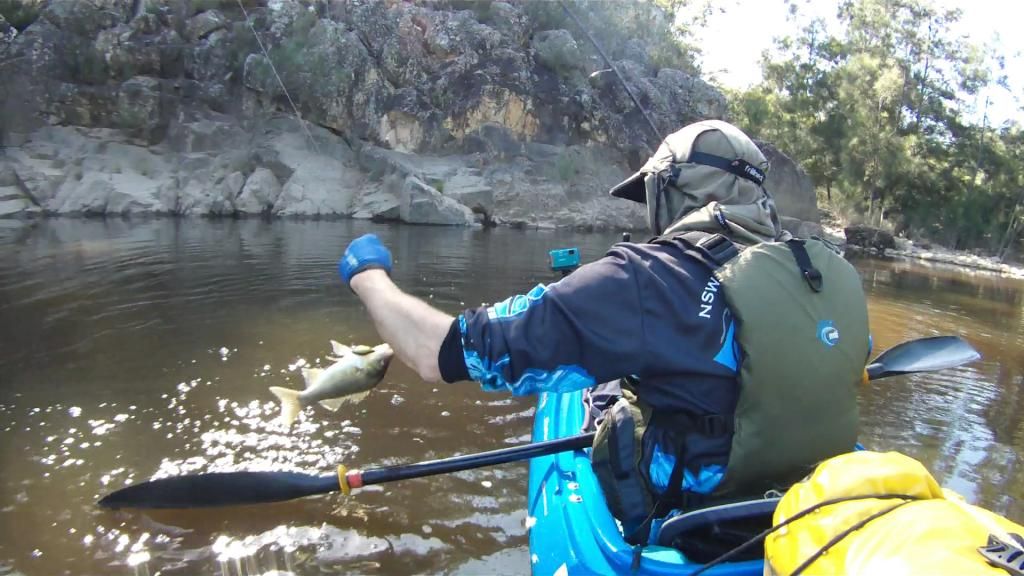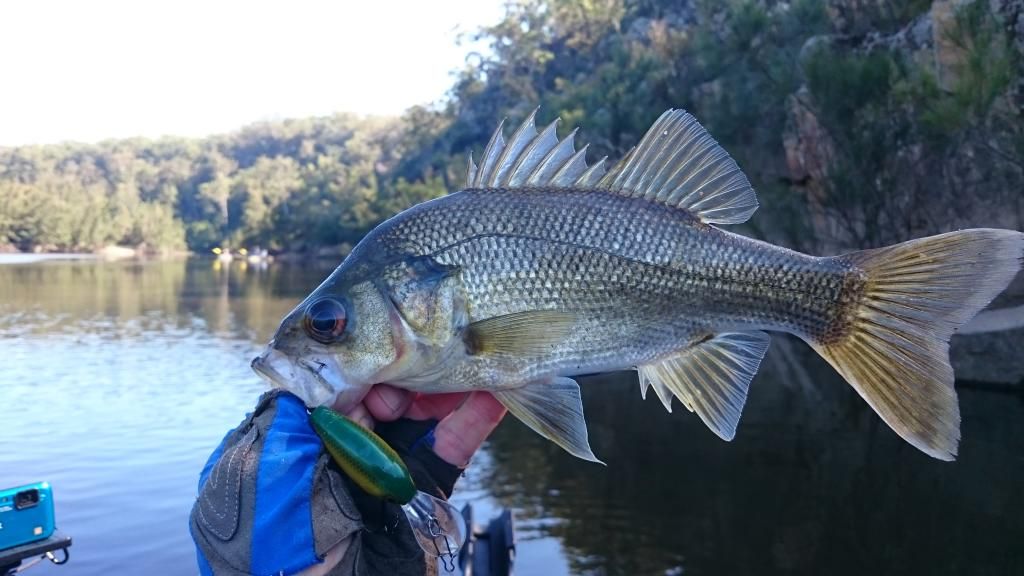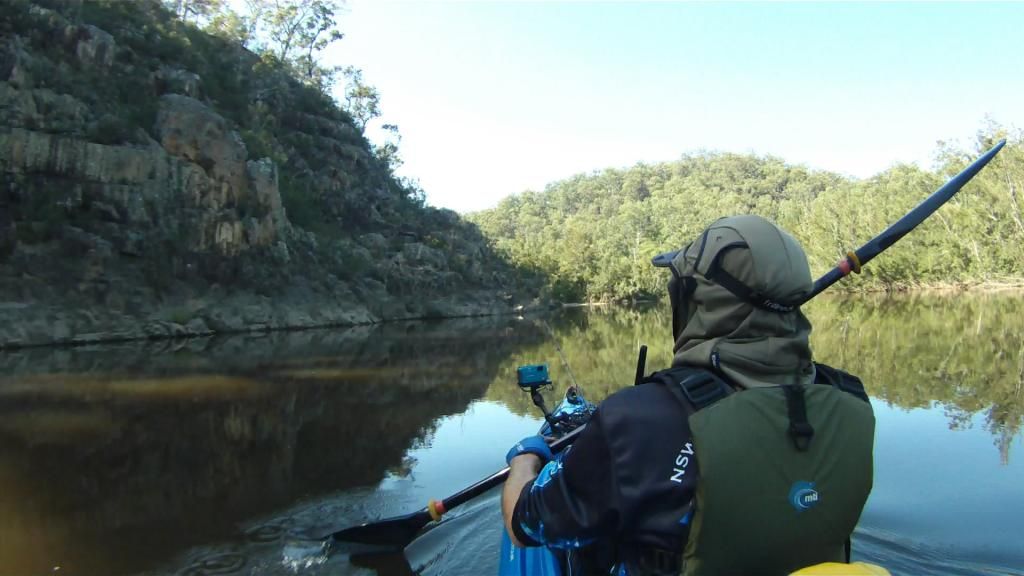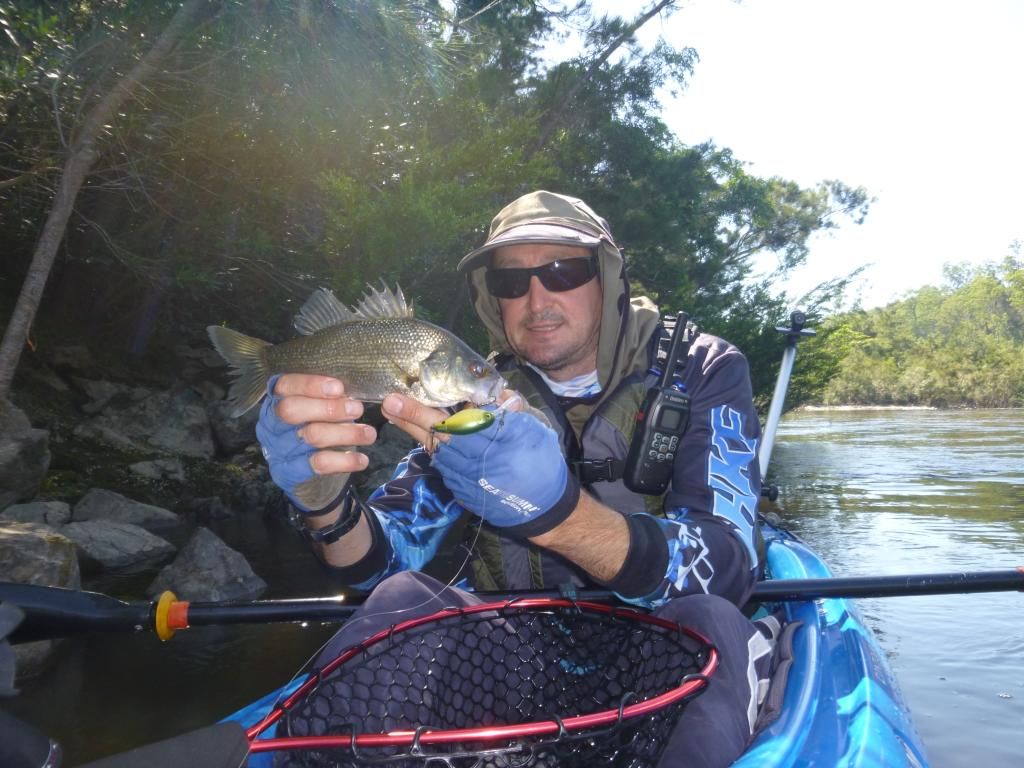 The last rapid of the trip was the worst and I took on a lot of water (It was fun though). We ended up stopping for a swim down river and bailed the sit-ins out while we were there.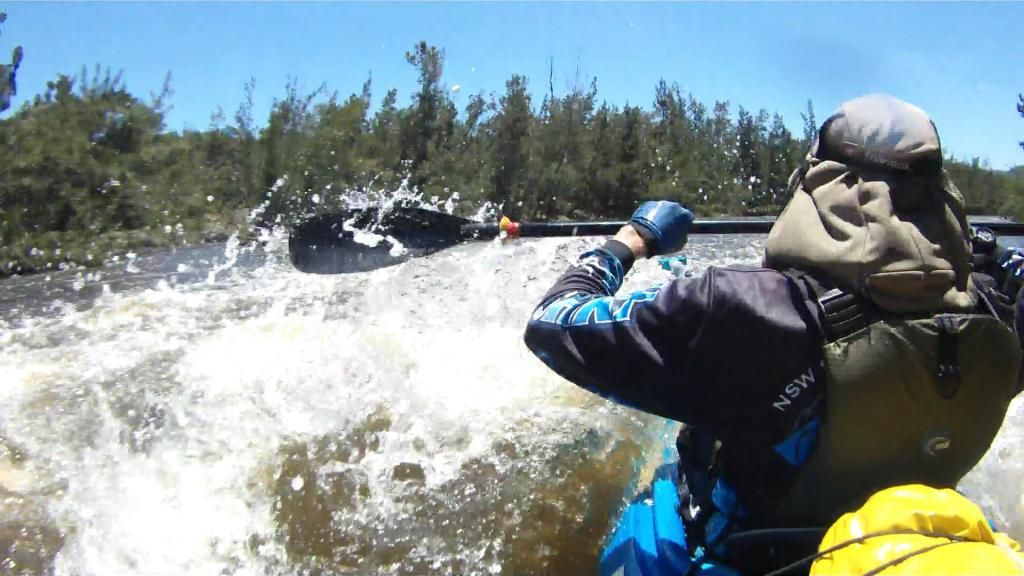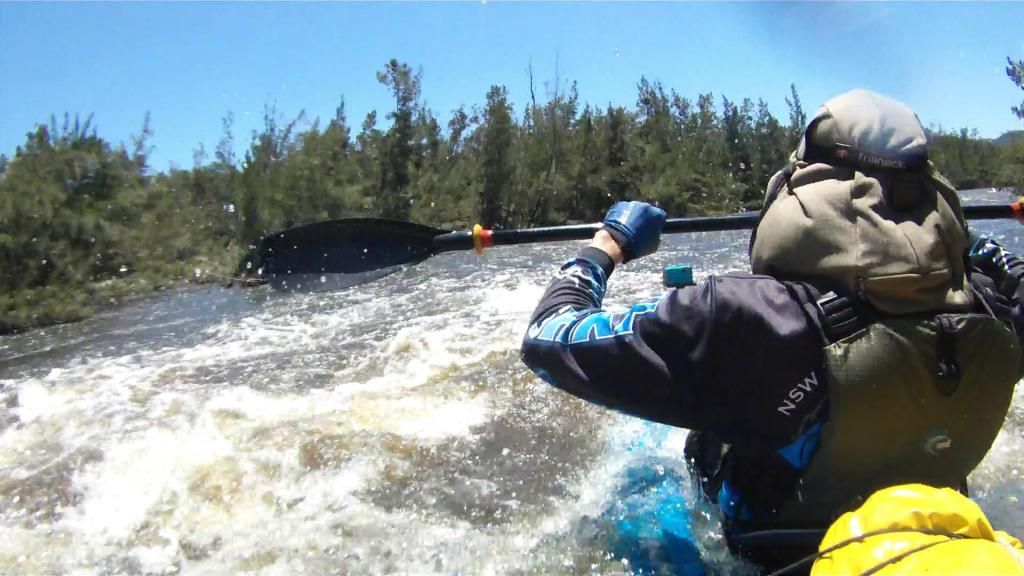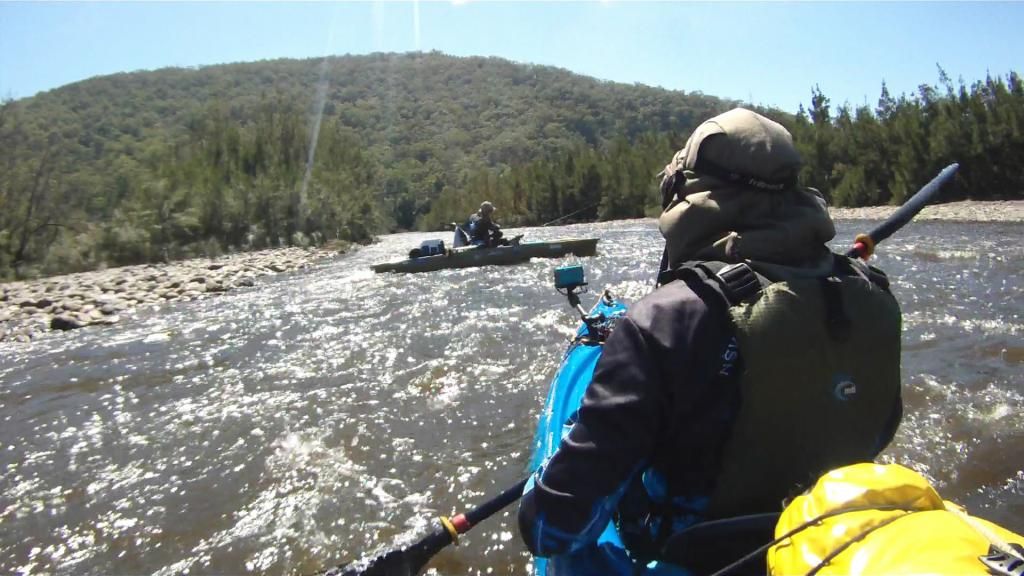 Then there was the monitor that took a liking to Sniper's PA. He then jumped on my Aspire before going back to the PA. He got sick of all the attention pretty quick though and continued with his swim.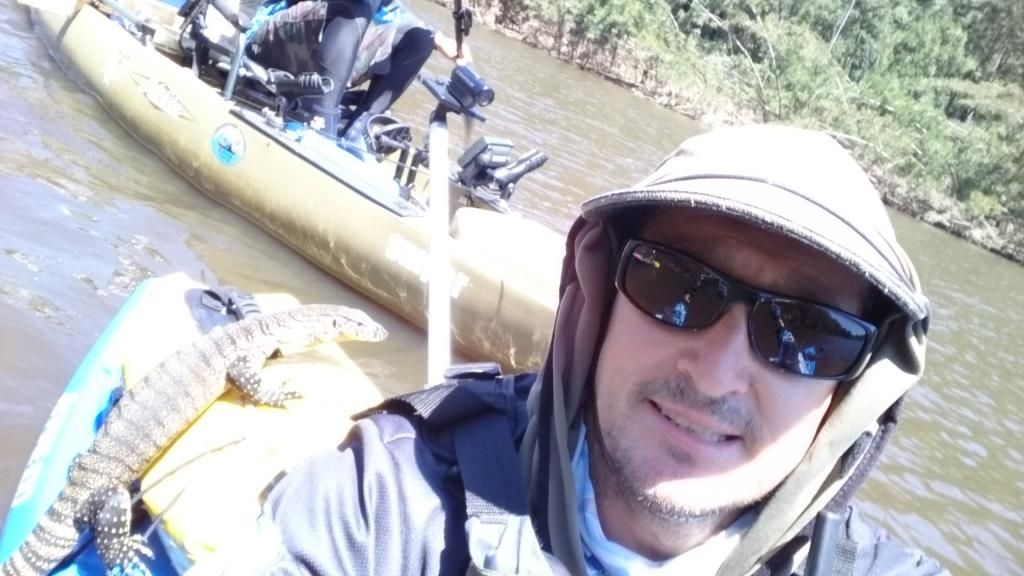 We made it!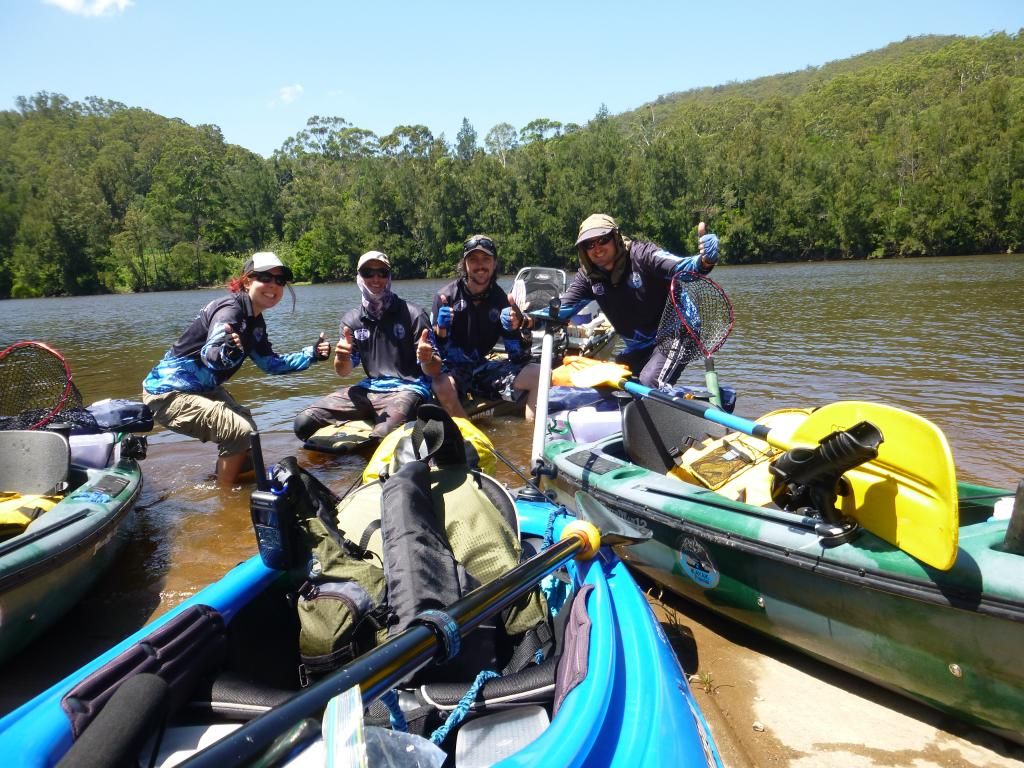 So all up we covered over 45kms for the entire trip. I had such an awesome time and would love to do it again while I still can. I'd like to thank YakNBass & Tiny Torpedo (Team Crezza) and Sniper for making it a great trip and one to remember and also Craig's dad for picking us up from the exit point.
Hope you enjoyed the read.